Beef Stock Ramen Noodle Soup
Turn spaghetti into ramen noodles by adding bicarbonate of soda - it's surprising how well this works! The soup is made flavourful by adding the stock cube, it's super simple and delicious.
Recipe By: Tobuchan (https://cookbuzz.com/kitchen/25)
Serves 1 Cook: 15 min
Ingredients
| | |
| --- | --- |
| Spaghetti | 100g |
| Hot water for boiling | 1.5 litres |
| Salt | 1 tbsp |
| Bicarbonate of soda | 1 tbsp |
| Beef stock cube | 1 |
| Hot water for soup | 350ml |
| Toppings | as you like |
Method
1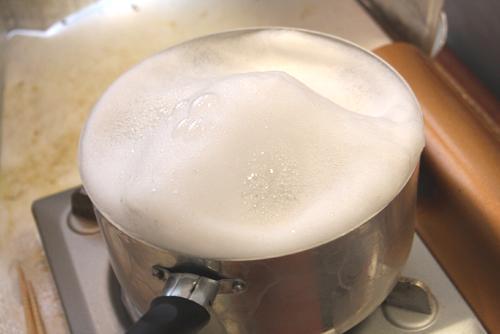 Put the salt in boiling water, then turn the heat off. Add the bicarbonate of soda. Put the heat back on to low. If you keep the heat on, it will overflow immediately.
2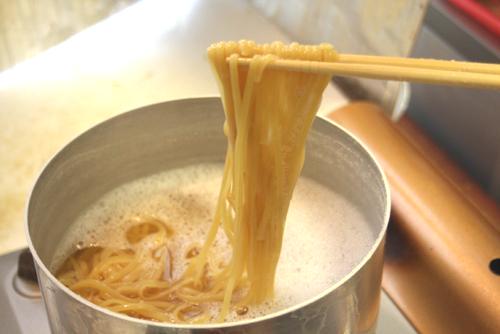 Add the spaghetti and boil on low heat for 2 minutes longer than the pack instructions.
3
In the meantime, make the soup: put the stock cube into 350ml boiling water. Allow to dissolve, then turn it off.
4
Drain the cooked pasta and wash under running water to remove the smell of the soda. Add into Step 3 and bring to the boil. It's now ready.
5
Transfer to a serving bowl and add your favourite toppings.
6
This is the Dr Oetker Bicarbonate of Soda that I used. I bought it in Tesco.
Tips & Note
●I had heard that adding bicarbonate of soda to spaghetti would turn them into ramen noodles - and it's true!
●You can make this with pork or fish stock cubes instead of beef


Tips & Note
●I had heard that adding bicarbonate of soda to spaghetti would turn them into ramen noodles - and it's true!
●You can make this with pork or fish stock cubes instead of beef