How to Make Ramen Noodles using Spaghetti
A really cheap and quick way to make ramen noodles instead of buying them in a Japanese store.
Recipe By: Tobuchan (https://cookbuzz.com/kitchen/25)
Serves 2 Cook: 12 min
Ingredients
| | |
| --- | --- |
| Spaghetti | 200g |
| Bicarbonate of soda | 1 tbsp |
| Salt | 1 tbsp |
| Hot water | 1.5 litres |
Method
1
Add the salt into boiling water and turn the heat off. Add the bicarbonate of soda - make sure the heat is turned off otherwise it will instantly overflow!
2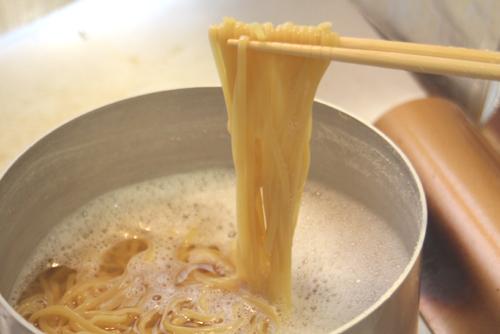 Turn the heat back on to low and add the spaghetti. It could still overflow so beware. Cook the spaghetti as usual but add 2 more minutes.
3
Drain in a colander and wash under running water to remove the smell of the soda.
4
Enjoy with your favourite soup and toppings! Simple ramen noodles!
Tips & Note
●It can easily overflow fast, so ensure the heat is turned off before adding the soda
●Use thin long pasta to get as close to ramen noodles as you can