Cold Chinese Noodles (Hiyashi Chuka)
Make the ramen noodles using spaghetti by adding bicarbonate of soda.
Recipe By: Deepseafish (https://cookbuzz.com/kitchen/269)
Serves 2 Cook: 15 min
Ingredients
| | |
| --- | --- |
| Spaghetti | 200g |
| Bicarbonate of soda | 1 tbsp |
| Salt | 1 tbsp |
| Toppings | as you like |
Method
1
Add the salt to boiling water then turn the heat off. Add the bicarbonate of soda - be careful, it may boil over.
2
Put the heat back on low and cook the pasta for two minutes longer than the packet instructions.
3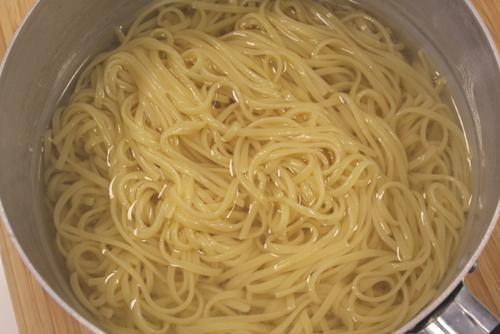 When it's cooked, drain the pasta and run under cold water to wash away the smell of the soda
4
Transfer the pasta to a serving dish and add the sauce and toppings such as shreds of cucumber, or chicken or shredded omelette, or cherry tomatoes or wakame seaweed.
5
See here how to make shredded omelette (
kinshi tamago
).
And here for how to make
fine shreds of cucumber
.
6
Here's how to make the
sauce
.
How to make
ramen noodles using spaghetti
.
Tips & Note