Wild Asparagus with Poached Egg
It's a bit difficult to find wild asparagus in London, but in the right season, you should find it at Borough Market. It's really delicious!
Recipe By: yhiranuma (https://cookbuzz.com/kitchen/34)
Serves 2 Cook: 15 min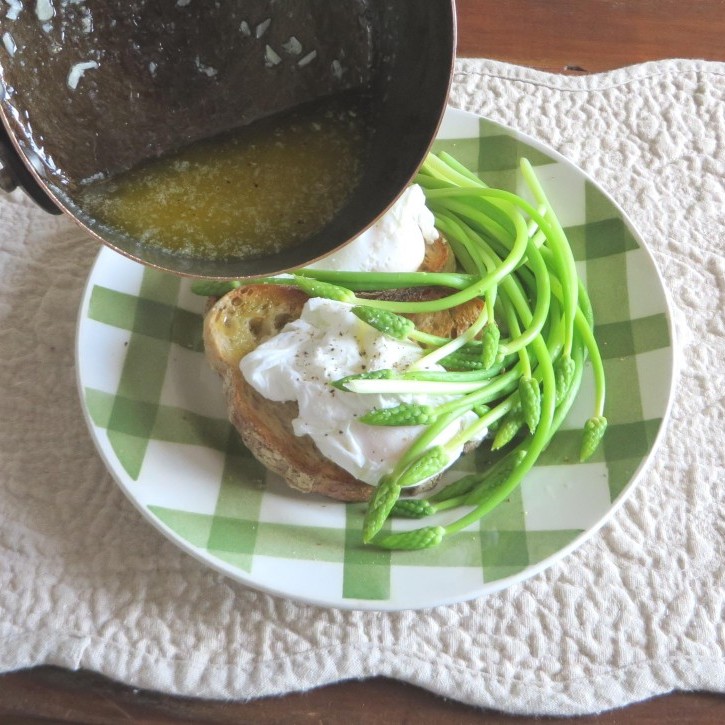 Ingredients
| | |
| --- | --- |
| Wild asparagus | 150g |
| Eggs | 2 |
| Butter | 4 tbsp |
| Garlic (finely chopped) | 2 cloves |
| Your favourite bread slices | 4 |
| Salt, pepper, vinegar, olive oil | as required |
Method
1
Here are the ingredients, the greens are wild asparagus.
2
Put the butter and garlic in a small pan on low heat. Make sure it doesn't burn. Season with salt & pepper.
3
Boil the asparagus in salted water for 3-4 minutes (or to your desired texture). Drain well.
4
In the boiled water pan, add a touch of vinegar. Keep the water boiling lightly and gently crack the egg into the water to make a poached egg. Remove after 3-4 minutes.
5
Sprinkle olive oil and salt onto toasted bread then top with the poached egg. Serve with the asparagus alongside. Pour the garlic butter over the asparagus.
Tips & Note
Wild asparagus will cook quickly so keep your eyes on it as it boils.