Ma-Po Nasu - Fried Aubergine (Eggplant) with Chinese chilli sauce
Just add Chinese peppercorn 'Hua Jiao' to get close to the authentic Sichuan taste. It is sold in Chinese food stores, so please try to get it.
Recipe By: Tobuchan (https://cookbuzz.com/kitchen/25)
Serves 1-2 Cook: 15 min
Ingredients
| | |
| --- | --- |
| Aubergine (eggplant) | 1 |
| Minced pork | 100g |
| Leek | 1 |
| Chinese peppercorn (Hua Jiao) | 1 tbsp |
| Vegetable oil | 1 tbsp |
| Chinese chilli bean sauce (Tobanjan) | 1.5 tbsp |
| Chinese sweet bean sauce (Tenmenjan) | 1 tbsp |
| Black pepper | a pinch |
| Soy sauce | 1 tbsp |
| Sake (white wine) | 1 tbsp |
| Chicken stock | 5 tbsp |
| Spring onions (chopped) | as required |
| Chilli oil | optional |
Method
1
After roasting the black pepper in a frying pan for about 1 minute, crush it with a rolling pin to release its scent. Slash the skin of the eggplant in a grid pattern to make it easier to absorb a full flavour.
2
Add 1 tablespoon of oil to a frying pan, add the eggplant in bite-size pieces with the skin side down, and cook on high heat for about 3 minutes. Turn the eggplant pieces over and bake for another 2 minutes before removing them.
3
Add another tablespoon of oil in the same frying pan, add the minced pork and cook on medium heat. Finely chop the minced meat with the spoon as it cooks.
4
When it becomes golden brown and the fat becomes transparent, add the chopped leeks and fry. When the leeks have softened, add all the seasonings apart from the chicken stock.
5
Fry for a while, then add the chicken stock. Add the eggplant pieces from Step 2 and simmer for 2-3 minutes.
6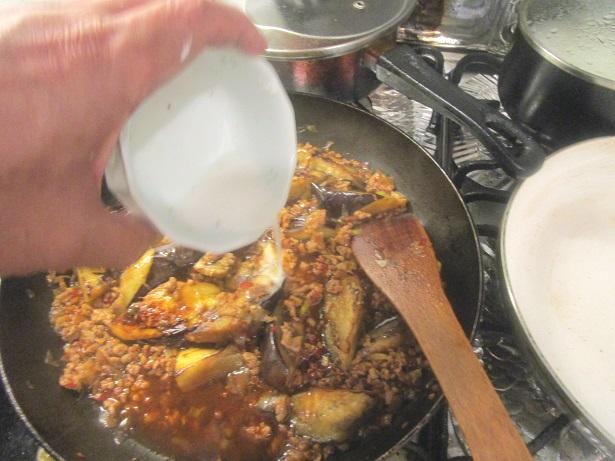 Turn off the heat, add water-soluble corn starch to thicken the sauce. Turn the heat back on until the sauce thickens, then serve on a plate.
7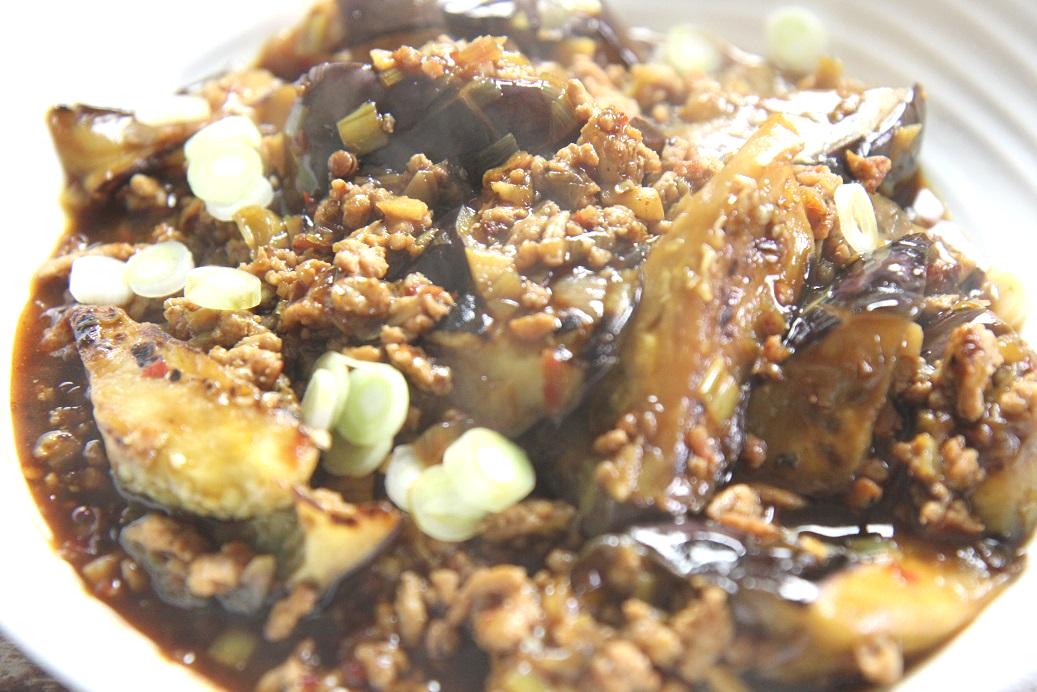 After serving on a plate, sprinkle with finely chopped spring onions and it's done. If you like spicy food, top with some chilli oil.
Tips & Note