How to Clean and Prepare Octopus
Those days are over when you needed to clean octopus with salt. Try this alternative simple idea and from now on, cooking octopus will be a walk in the park.
Recipe By: Purihirunesan (https://cookbuzz.com/kitchen/56)
Serves 何でも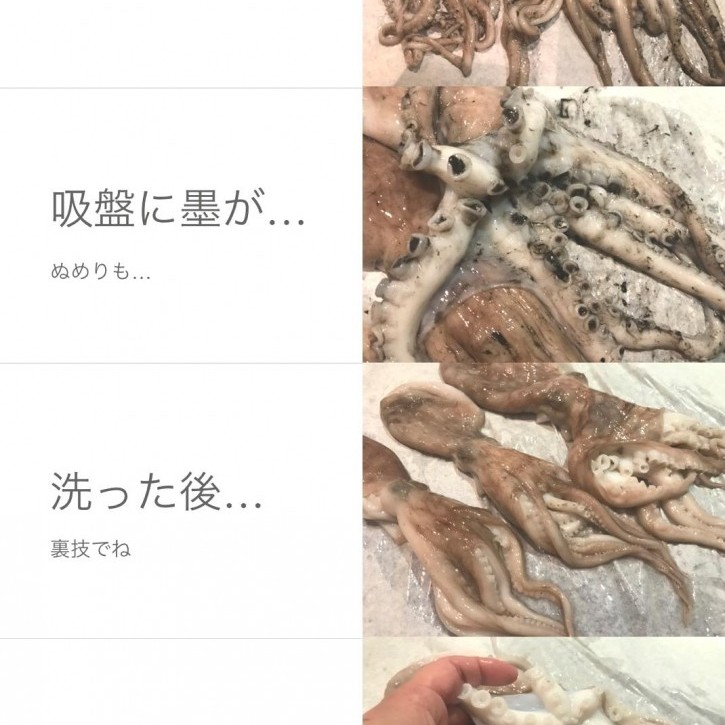 Ingredients
| | |
| --- | --- |
| Fresh octopus | size of your hand |
| Cornflour or potato starch | 1 tbsp |
Method
1
It's hard to handle octopus because of its ink and sliminess. You'll need a tbsp potato starch or cornflour for 1 cup of octopus.

slime
2
Powder, dirt and slime are probably all mixed in and absorbed, so keep rubbing for a good 2 minutes, including the tentacles.
3
Rinse well with water.
4
Here you go - that's it. If you rub the octopus with salt, it will absorb it and could become too salty, even if you wash it well.
5
See the movie on instagram.
https://instagram.com/p/BTNHu8pD0Ru/
Tips & Note
Method
5
See the movie on instagram.
https://instagram.com/p/BTNHu8pD0Ru/