Eyecatching Smoked Mackerel Sushi Cake
Turn smoked mackerel into a beautiful centrepiece, perfect for a party.
Recipe By: cookbuzz (https://cookbuzz.com/kitchen/454)
Serves 4-6 Prep: 20 min Cook: 10 min
Ingredients
| | |
| --- | --- |
| Smoked mackerel | 1 pack (200g) |
| Sushi rice | for 2 people |
| Spring onions | 4 |
| Mayonnaise | 3 tbsp |
| Soy sauce | 1 tbsp |
| Wasabi paste | 2 tsp |
| Nori sheet (optional) | 1 |
| Chilli powder (optional) | 1 tsp |
| Red chilli (optional) | 1 |
Method
1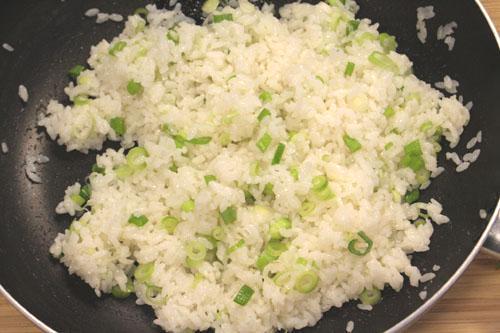 Cook the rice a bit hard then steam it for 10 minutes. Transfer it to a large flat dish and make vinegared rice using sushi vinegar. Add two finely chopped spring onions.
2
Put the smoked mackerel in a bowl and microwave for 1 minute. Remove the skin and add the mayonnaise, soy sauce, wasabi and mix, flaking with a fork.
3
Keep the pieces fairly large, otherwise you will lose the texture. Lay some cling film in a 20cm diameter oven tin and spread the mackerel evenly on top.
4
Make sure the edge goes up the side of the tin about 1cm high. Cover with half of the vinegared rice from Step 1 and spread evenly.
5
Lay the nori seaweed neatly on top. You can omit the nori because it can be quite difficult to cut with chopsticks.
6
Cover with the remaining half of the vinegared rice from Step 1 and spread it all over. Lay some more cling film on top and press down to flatten with something heavy and flat like the base of a bottle.
7
Remove the top cling film and place a large flat dish on top and turn it over. Gently remove the tray and bottom layer of cling film. It should look like this.
8
To make it look impressive, you can sprinkle some chilli powder and scatter the remaining two sliced spring onions and ​red chilli.
Tips & Note