Rollmop Sushi
Rollmop is pickled herring, it's very sour but handy and cheap.
Recipe By: Tobuchan (https://cookbuzz.com/kitchen/25)
Serves 1本分 Cook: 15 min
Ingredients
| | |
| --- | --- |
| Sushi rice | 120g |
| Wasabi | as required |
| Rollmop fillets | 2 |
| Dashi granules | 1 tsp |
| Salt | a pinch |
Method
1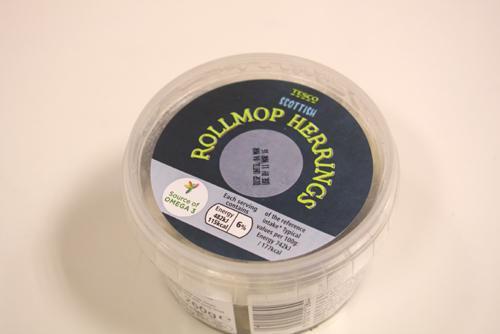 This is the rollmop I used from Tesco.
2
There is a lot and it only cost£1。
3
The vinegar is quite strong, so soak the rollmop fillets in water with a mix of 1 tsp dashi granules and a pinch of salt for 30 minutes.
4
This will remove the vinegar. Remove then pat dry.
5
I'm going to attempt to make a proper sushi, not a maki roll.
6
Cover a bamboo mat with cling film and place 120g sushi rice to cover half the mat. There are no other ingredients to add to this, or any nori, so this is simple. Just make sure you have neat edges of rice.
7
Lift the bamboo mat with the cling film from your side and roll up. Create a roll of rice and press down firmly.
8
Spread a touch of wasabi along the rice, then place the rollmop fillets on top.
9
In order to press the rollmop firmly on the rice, roll up with the bamboo mat again and create a nice neat roll.
10
Slice into 6 pieces using a wet knife. You shouldn't need to dip into soy sauce as the vinegar will be strong enough.
Tips & Note
●This looks like proper sushi because there's no nori. It's a bit more difficult to make because there's no nori to hold the rice in place, so be careful when you pick it up that it doesn't collapse.
●You can make two lots of sushi with this amount of rollmops

Method
5
I'm going to attempt to make a proper sushi, not a maki roll.
Tips & Note
●This looks like proper sushi because there's no nori. It's a bit more difficult to make because there's no nori to hold the rice in place, so be careful when you pick it up that it doesn't collapse.
●You can make two lots of sushi with this amount of rollmops