Chilli Con Carne Rice Sandwich (Onigirazu)
I tried some tinned chilli con carne and it was so delicious I decided to use it in a rice sandwich and it worked really well!
Recipe By: Tobuchan (https://cookbuzz.com/kitchen/25)
Serves 1 Prep: 5 min Cook: 5 min
Ingredients
| | |
| --- | --- |
| Tinned chilli con carne | 2 tbsp |
| Lettuce leaf | 1 |
| Mayonnaise | 1 tbsp |
| Honey | 1 tsp |
| Egg | 1 |
| Cooked rice | 100-110g |
| Nori sheet | 1 |
| Salt | a pinch |
Method
1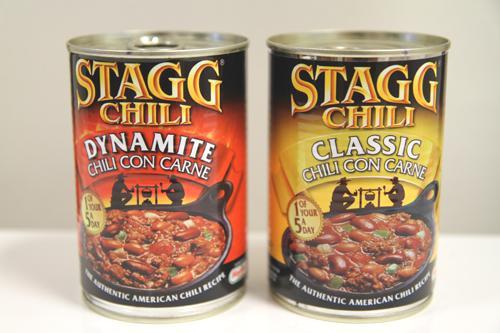 This is the Stagg chilli con carne I bought from Morrisons. I used the spicy dynamite one on the left.
2
Put some oil in a frying pan and make a fried egg sunny side up.
3
These are the ingredient to be wrapped in the rice. Microwave the chilli con carne in a bowl for 20 seconds. Mix the mayonnaise with the honey.
4
Sprinkle the salt onto the cooked rice and mix well. Place some cling film on a board and lay the nori sheet in a diamond shape on top. Put on half the rice and spread out to a flat round.
5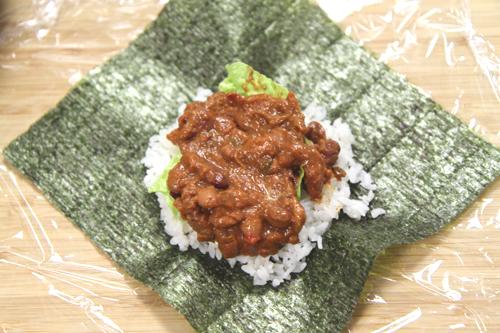 Add the lettuce then the chilli con carne and spread out to cover the rice. Drizzle the mayonnaise over the top.
6
Top with the fried egg from Step 2, then the remaining rice.
7
Lift the top and bottom corners of the nori with the cling film and fold in to the centre, pressing firmly at the top.
8
Repeat with the left and right corners and press firmly to secure.
9
Wet the knife and cut in half together with cling film. You can cut to make squares or diagonally to make triangles.
10
Transfer to a dish. I put too muchfilling this time so looks a bit messy (but it was delicious!).
Tips & Note
●The red dynamite chilli is quite spicy so use the yellow classic version if you don't like it hot
●There's plenty of chilli con carne in one tin, you can easily make 7 or 8 of these sandwiches
Tips & Note
●The red dynamite chilli is quite spicy so use the yellow classic version if you don't like it hot
●There's plenty of chilli con carne in one tin, you can easily make 7 or 8 of these sandwiches