Scallop & Pancetta Grill
A simple recipe rolling up the scallops in pancetta but the texture of both works really well.
Recipe By: Mizue (https://cookbuzz.com/kitchen/32)
Serves 3 Prep: 15 min Cook: 5 min
Ingredients
| | |
| --- | --- |
| Scallops (roeless) | 180g |
| Pancetta | 50g (6 slices) |
| Lemon | as required |
Method
1
Here are the ingredients. Even small scallops are OK. Choose thin pancetta slices.
2
Soak some wooden skewers in water for 10 minutes. Cut the pancetta enough to complete wrap around the scallops. Thread on to the skewers.
3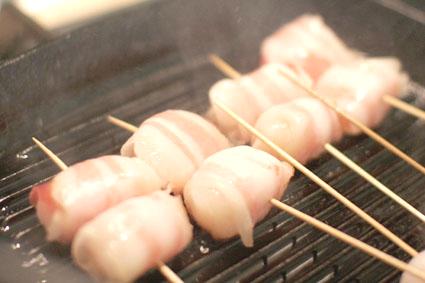 Heat a grill pan on very high and grill for 3 minutes on each side. Serve with lemon wedges.
Tips & Note
You need to soak the skewers in water beforehand otherwise they will get burnt on the grill.