Stunning Smoked Salmon Sushi Cake Centrepiece
So simple but looks magnificent - slices of smoked salmon on sushi rice, perfect for entertaining.
Recipe By: cookbuzz (https://cookbuzz.com/kitchen/454)
Serves 3-4 Prep: 20 min Cook: 10 min
Ingredients
| | |
| --- | --- |
| Smoked salmon for sandwiches | 2 packs |
| Sushi rice | for 2 people |
| Basil leaves (optional) | as you like |
| Capers (optional) | as you like |
| Lumpfish caviar (optional) | as you like |
| Wasabi (optional) | as you like |
Method
1
Lay some cling film in the bottom of a 20cm diameter oven tin. On the right, you can see the smoked salmon for sandwiches. One pack has 6 slices, I bought it at Tesco.
2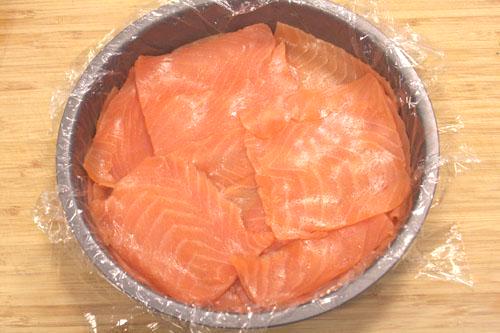 Lay the smoked salmon directly onto the cling film evenly. Make sure the salmon goes up the side of the tin about 1cm high.
3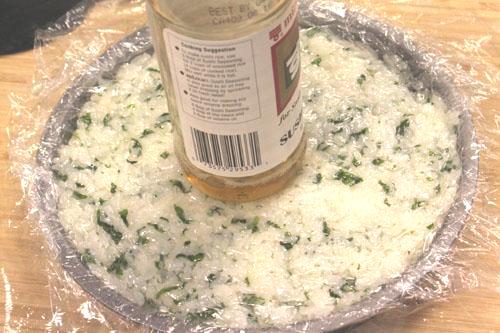 Add the finely chopped basil leaves into the sushi rice and lay the rice on top of the salmon. Spread it out equally then put another layer of cling film on top of the rice and press down to flatten. Use the base of a bottle or something similar.
4
Brush 1 tsp vegetable oil on the serving plate to prevent the rice sticking to it.
5
Remove the top cling film and turn the tin upside down onto the plate. Gently lift the tin to remove it, it should look like this. You could eat it now!
6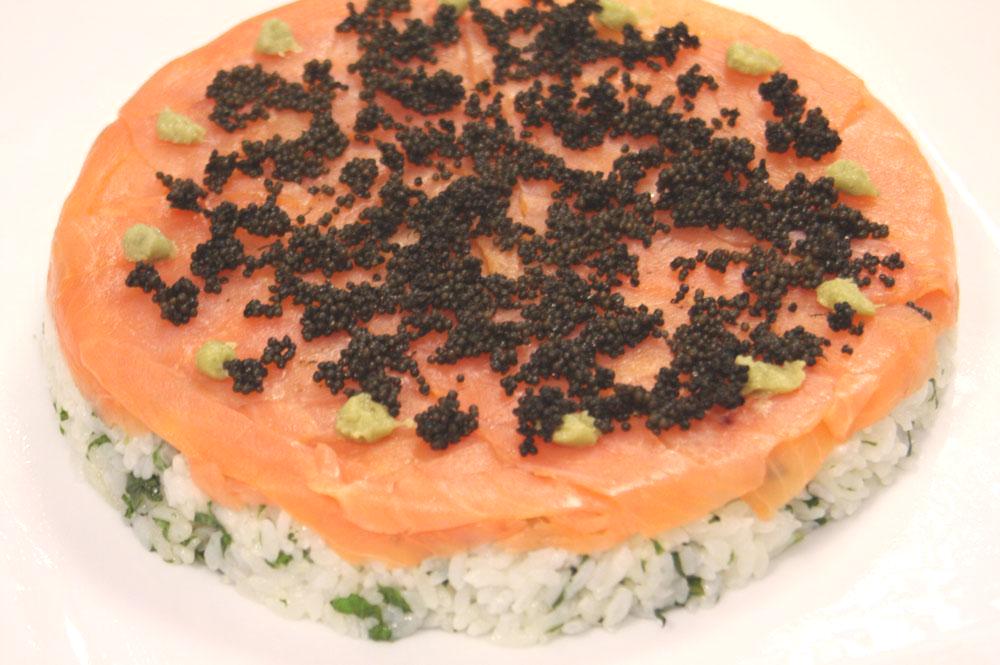 If you want to dress it up, add your favourite toppings, such as wasabi, lumpfish caviar, capers, etc, like this. Don't overdo it and add too much or the saltiness will affect those with high blood pressure.
7
Transfer a slice of sushi cake onto a plate, to amuse and delight your guests!
Tips & Note