Egg & Spinach Pie
I was taught this by Maki Shimada, a cookery expert in Japan, I hope I did a good job.
Recipe By: Deepseafish (https://cookbuzz.com/kitchen/269)
Serves 4 Prep: 30 min Cook: 20 min
Ingredients
| | |
| --- | --- |
| Puff pastry sheet | 1 |
| Spinach | 200g |
| Smoked bacon rashers | 3 |
| Hard boiled eggs | 2 |
| Double cream | 50ml |
| Curry powder | 1 tsp |
| Salt & pepper | a pinch each |
| Olive oil | 2 tbsp |
| Egg yolk | 1 |
Method
1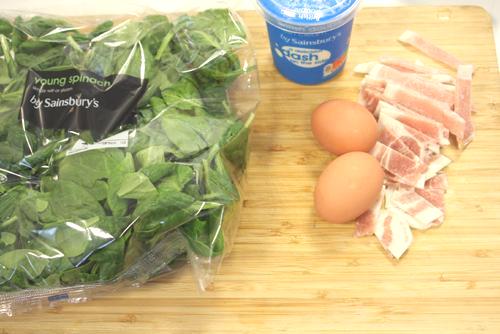 Here are the ingredients, I used young spinach this time.
2
Put the olive oil in a large frying pan and fry the spinach on medium heat. Season with salt & pepper.
3
Pour in the double cream and sprinkle in the curry powder and mix. Cook until it reduces then transfer to a bowl and allow to cool.
4
Chop the boiled eggs and cut the bacon into fine strips. Add to the cooled mixture in Step 3. Mix thoroughly, cover with cling film and leave in the fridge for 30 minutes.
5
Cut the puff pastry into 4 equal long slices. Divide the mixture from Step 4 into 4 and place at the end of each pasty strip. Brush the rest of the pastry with the beaten egg yolk.
6
Lift the pastry and fold over to cover the filling on all sides. Using your hands, press down firmly to create a nice round shape in the centre of each pastry square.
7
Place the pies onto an oven sheet on a baking tray and use a fork to press along each edge to seal completely and create a nice pattern.
8
Brush with more egg yolk on the top and score a criss cross lightly. Put in a preheated oven 220C for 20 minutes until nice and golden.
Tips & Note
●If the mixture is too wet at Step 3, the pies will be quite soggy, so keep cooking to reduce the sauce as much as possible
Tips & Note
●If the mixture is too wet at Step 3, the pies will be quite soggy, so keep cooking to reduce the sauce as much as possible