Rollmop & Pickled Walnuts Rice Sandwich (Onigirazu)
Use cheap rollmops to make 4 sandwiches, it's really wallet-friendly!

Recipe By: tomato girl (https://cookbuzz.com/kitchen/54)
Serves 1 Cook: 5 min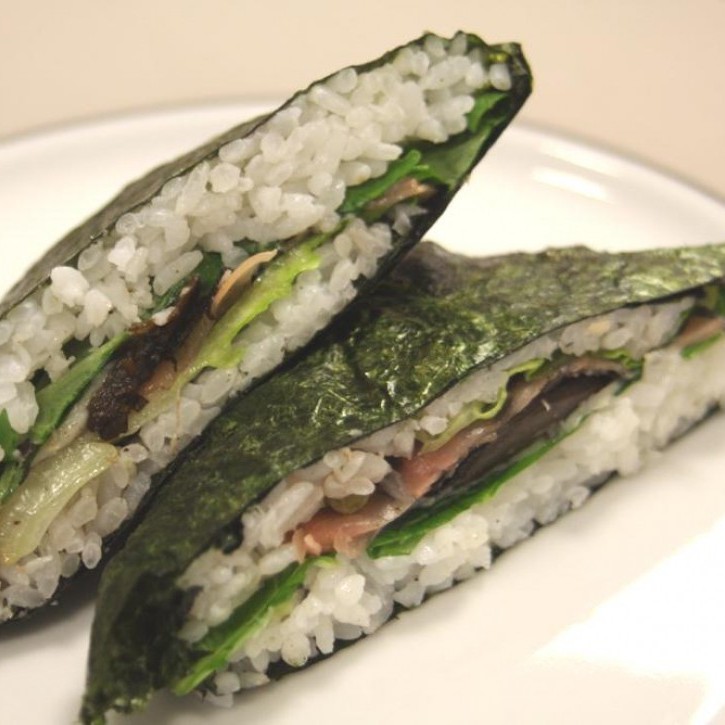 Ingredients
| | |
| --- | --- |
| Rollmop herring | 1/2 |
| Pickled walnut | 1 |
| Pickled ginger (gari) | as you like |
| Basil leaves | 7-8 |
| Nori sheet | 1 |
| Cooked rice | 100g |
Method
1
I used these Opie's pickled walnuts. They're really really soft!
2
Here are the ingredients. Use just a half of a herring. Rollmops are quite sharp so soak in water for 15 minutes to reduce the sourness.
3
Place some cling film on a chopping board and lay the nori sheet on top in a diamond shape. Put half the rice in the centre and spread out to a flat round.Top with all the ingredients.
4
Cover with the remaining rice, then fold in the top and bottom corners of the nori sheet with the cling film to overlap at the top. Repeat with the left and right corners then press firmly to secure.
5
Wait 4-5 minutes then cut in half diagonally with a wet knife. Remove the cling film before serving.
Tips & Note
◆rollmops and the walnuts are sour, so it will taste a bit like sushi
◆optionally, add 1 tsp mayonnaise to soften the sourness