Maki Sushi with Red Leicester Cheese and Cucumber
Red Leicester cheese goes well with Branston pickle, so I made some maki sushi using them. You can make two maki sushi rolls with this amount.
Recipe By: Orange House (https://cookbuzz.com/kitchen/439)
Makes 2 Prep: 20 min Cook: 10 min
Ingredients
| | |
| --- | --- |
| Sushi rice | for 1 person |
| Spring onions | 3 |
| Red Leicester cheese | as required |
| Cucumber | as required |
| Branston pickle (small chunks) | as required |
| Nori sheet | as required |
| Sesame seeds | as required |
Method
1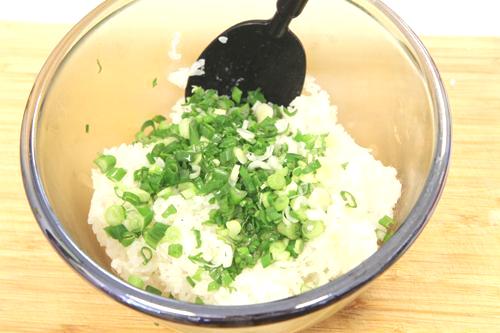 Sprinkle 3 tbsp sushi vinegar onto cooked rice and sprinkle with the finely chopped spring onions to make sushi rice.
2
Place some cling film on a bamboo mat and lay a half nori sheet on top. Spread evenly with the sushi rice.
3
Sprinkle evenly with the sesame seeds. Put more cling film on top and press down firmly. Turn the whole thing over so the nori sheet is face up on the bamboo mat.
4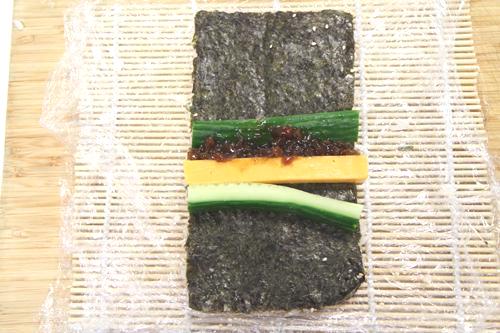 Place 2 slices of cucumber, 1 strip of cheese and about 1.5 tsp Branston Pickle on the nori sheet, about half way down.
5
Roll it up and over the ingredients. then keep rolling up towards to the top end.
6
Press firmly into a good shape then cut into four pieces, still with the cling film on. Remove the cling film and serve on a dish. If you cut it thinner to 5 or 6 pieces, this will be easier to eat.
Tips & Note