How To Make A Failsafe Fried Egg
Anyone can make this, starting the cooking in a cold frying pan.
Recipe By: Tobuchan (https://cookbuzz.com/kitchen/25)
Serves 1 Prep: 1 min Cook: 3 min
Ingredients
| | |
| --- | --- |
| Egg | 1 |
| Vegatable oil | 1 tsp |
| Water | 1 tsp |
Method
1
Put the oil in a frying pan (no heat on), then add the egg and the water.
2
Put the lid on, then turn on the heat high.
3
When you start to hear the oil and water crackling, turn the heat down to medium, then off when the egg white solidifies.
4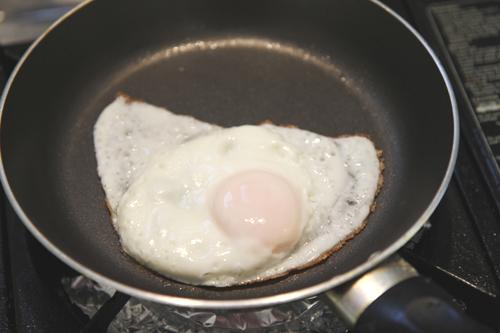 Keep in the pan for 1 minute to cook on residual heat. The egg yolk surface should become white in this time. Immediately transfer to a plate to stop any further cooking.
5
The inside of the yolk will be perfectly runny, like this.
Tips & Note
You could fry eggs with ham in the same way. Even placing the egg on some ham will allow the egg to steam cook with the residual heat.