Avocado and Prawn Maki Sushi Roll
Roll up a maki sushi using everyone's favorite starter ingredients of avocado and prawn.
Recipe By: Deepseafish (https://cookbuzz.com/kitchen/269)
Serves 2 Prep: 15 min Cook: 8 min
Ingredients
| | |
| --- | --- |
| Sushi rice | for 1 or 2 people |
| Nori sheet | 1/2 |
| Spring onion | 1 |
| Sesame seeds | as required |
| Cucumber | as required |
| Mayonnaise | 1 heaped tsp |
| Ketchup | 1 level tsp |
Method
1
Add some sushi vinegar to cooked rice, then add the chopped spring onion and mix well to make sushi rice.
2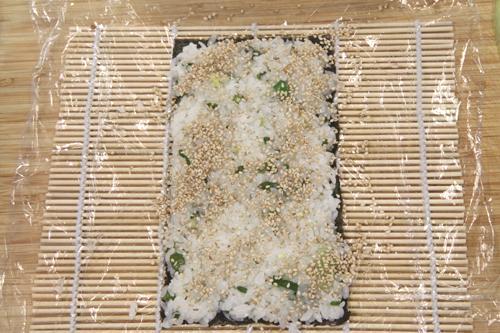 Put some cling film on top of a makisu (bamboo mat) and lay the nori sheet vertically on top. Spread the sushi rice evenly on top and sprinkle with the sesame seeds.
3
Put some cling film on top of Step 2 and press down. Turn the whole thing over together with the cling film, then place the sliced avocado and cucumber, and the prawns on the nori sheet, slightly below the middle.
4
Drizzle with the mayonnaise and ketchup.
5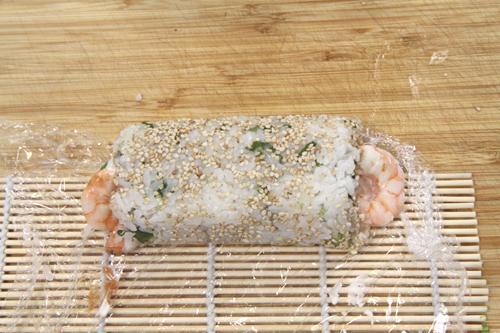 Lift the bamboo mat and cling film from the bottom end and roll it over to cover all the ingredients. Press firmly and continue to roll up towards to the top end.
6
Press everything firmly to make a good shape, remove the bamboo mat and cut into 4 pieces with the cling film still on. Lastly, remove the cling film, serve and enjoy. Well done!
Tips & Note
Similar Recipe
Impress your dinner guests with these eye-catching sushi canapes...don't tell them you just needed an ice cube tray!
すし飯, お好きな具材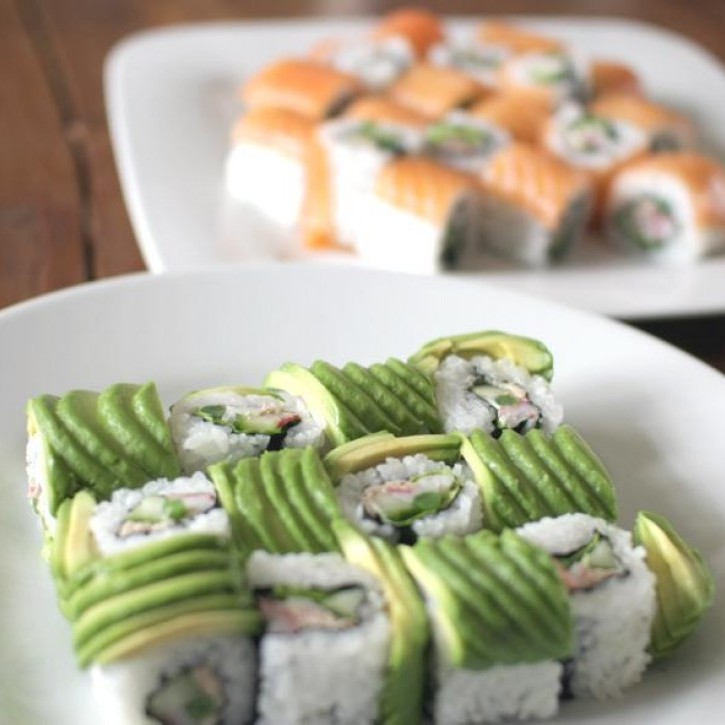 A bit tricky to make and the avocado could go brown or collapse, but it's so worth it!
Sushi rice, Salad leaves, Tuna (tinned, in oil), Mayonnaise, Cucumber (1cm square strips), Avocado, Nori sheet