Irresistibly Delicious Matcha Flan
The matcha flavour will slowly creep up on you.
Recipe By: KitchenCIB (https://cookbuzz.com/kitchen/94)
Serves 8-12 Prep: 15 min Cook: 40 min
Ingredients
| | |
| --- | --- |
| Eggs | 3 |
| Condensed milk | 200ml |
| Evaporated milk | 400ml |
| Vanilla extract | 2 tbsp |
| Granulated sugar | 120g |
| Water | 2 tbsp |
| Matcha | 1 heaped tbsp |
| Warm water | 2 tbsp |
Method
1
Heat a frying pan on low heat. Add the granulated sugar and tap water and boil down to make a caramel. Cook for 8 minutes without stirring.
2
When sugar has thoroughly dissolved, you've made the caramel. Pour it into a 20cm diameter cake tin while still hot, turning the tin so that it settles evenly.
3
Dissolve the matcha powder in the warm water and stir to avoid lumps.
4
Add the evaporated milk, condensed milk, eggs and vanilla extract into the bowl and whisk well,
5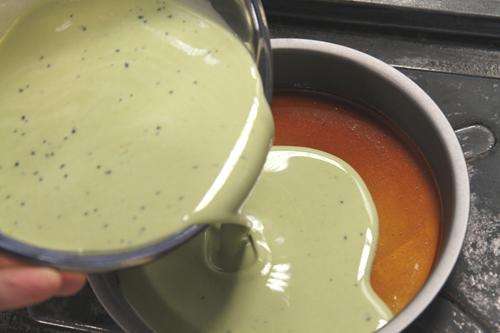 Pour the mixture onto the caramel in the cake tin from Step 2.
6
Place the cake tin in a deep baking tray and pour boiling water up to half the height of the cake tin. Bake for 40 minutes in a preheated oven 180 ℃.
7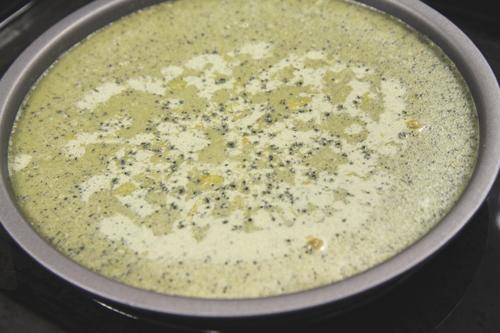 After this time, it will look like this. Pour water into the baking tray and after 10 minutes, cool the whole thing in the fridge for at least 2 hours.
8
Loosen the flan with a sharp knife or something similar around the inside of the cake tin.
9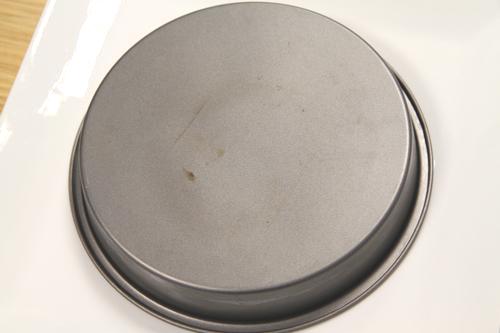 Place a large dish on top of the tin and turn it over swiftly.
10
It should come out like this.
11
After cutting into slices, gently place on a plate, scoop up the caramel and pour over the top.
Tips & Note