Daikon and Sour Plum Salad
Salt the daikon first to remove excess moisture to give this salad a really crisp finish.
Recipe By: KitchenCIB (https://cookbuzz.com/kitchen/94)
Serves 2 Prep: 5 min Cook: 5 min
Ingredients
| | |
| --- | --- |
| Daikon (mooli) | 10-12cm |
| Salt | 1/4 tsp |
| Sour plum (umeboshi) | 1 |
| Mayonnaise | 1 tsp |
Method
1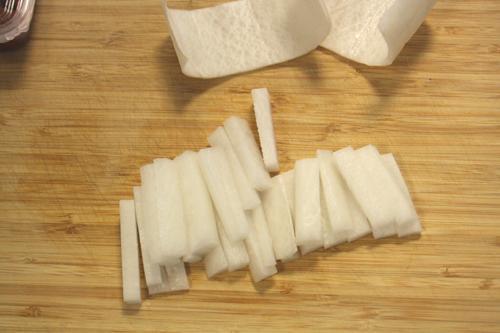 Peel the daikon thickly and cut into strips of about 5cm. Sprinkle with the salt and keep aside for 10 minutes.
2
Remove the stone from the umeboshi and squash with a kitchen knife together with some perilla herbs.
3
Squeeze out excess moisture from the daikon and pat dry with some kitchen paper. Put in a bowl and add the sour plums and mayonnaise and mix well.
4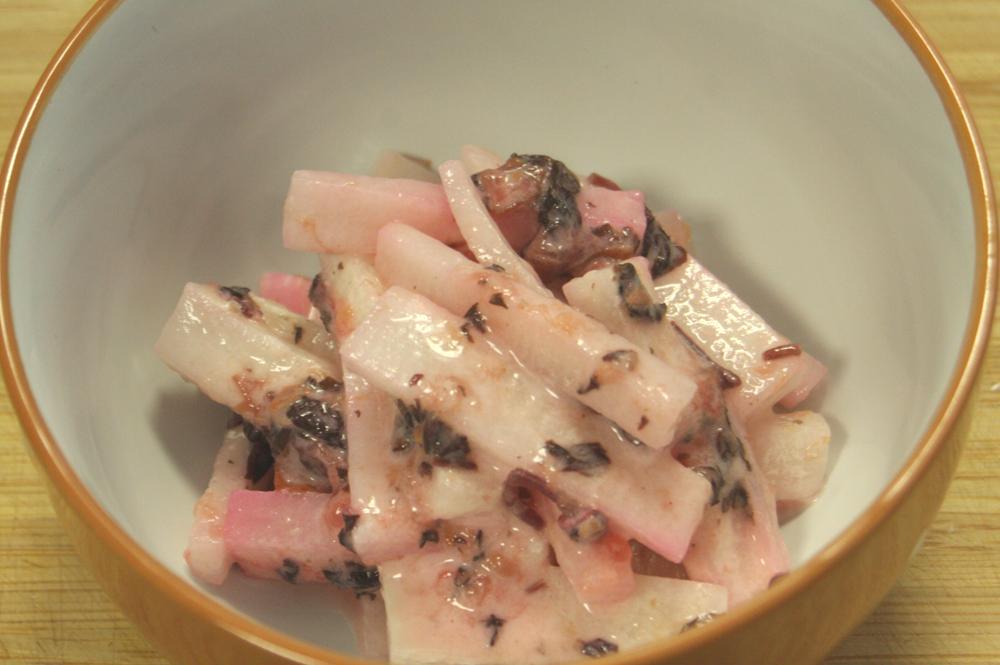 You'll immediately taste the umeboshi - if you want to make it a little sweeter, add a touch of sugar at Step 3.
Tips & Note
Similar Recipe
A great vegetable side dish and also good as a snack.
Daikon radish (mooli), Crushed sesame seeds, Salt, Pepper, Potato starch (or cornflour), Spring onions, Sesame oil, Soy sauce, English mustard
A delicious salad or side dish with fiery wasabi.
Mooli (daikon), Salt, Pickled plum (umeboshi), Noodle broth (mentsuyu, concentrated), Wasabi, Bonito flakes (optional), Sesame seeds (optional)
Daikon (mooli) is a wonderful healthy radish, why not try it?
Daikon (mooli), Cucumber, Salt , Salt & pepper, Tinned tuna (in sunflower oil), Mayonnaise, Vinegar, Chilli powder