Chicken, Vermicelli and Plentiful Vegetable Miso Soup
You can now enjoy a miso soup as a meal, not just soup
Recipe By: KitchenCIB (https://cookbuzz.com/kitchen/94)
Serves 2 Cook: 10 min
Ingredients
| | |
| --- | --- |
| Chicken thigh or breast | 1 |
| Salt & pepper | a little |
| Soy sauce | 1/2 tsp |
| Potatoes (medium) | 2 |
| Carrot (small) | 1 |
| Celery | 2 |
| Bok choy bunch | 1 |
| Vermicelli | 2 handfuls |
| Ginger | 1 thumb |
| Red chilli | as you like |
| Dashi stock granule (or fish stock cube) | 1/2 tsp (1/2) |
| Vegetable oil | 1 tbsp |
| Miso | 35-40g |
Method
1
Chop the chicken into small bitesize pieces and season with the salt & pepper and rub with the soy sauce. Soak the vermicelli in hot water for 5 minutes.
2
Put the vegetable oil in a saucepan and fry the chicken on high heat.
3
When the chicken has browned nicely, add the bitesize pieces of the vegetables except the bok choy. Cut the ginger into small pieces and add it here.
4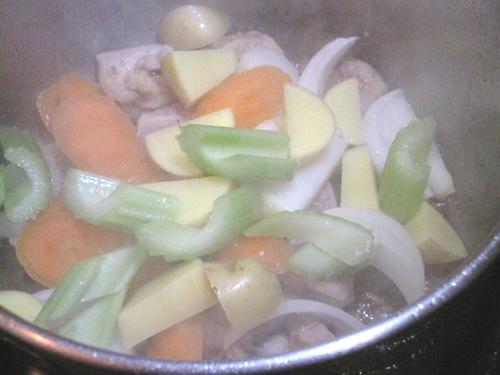 When the vegetables have softened, add the hot water and dashi granules and reduce the soup to 2/3. Add the chopped white harder part of the bok choy and boil for 2 minutes.
5
Add the leaves of the bok choy and dissolve in the miso on low heat.
6
Put the vermicelli into the soup bowl first, then scoop out the vegetables from the pan at Step 5. Finally, pour in the miso soup and top with the sliced red chilli.
Tips & Note