How to Make Dashi Stock (Ichiban Dashi)
Ichiban dashi from kombu seaweed and bonito flakes is ideal for a clear soup base or dashi maki tamago.
Recipe By: KitchenCIB (https://cookbuzz.com/kitchen/94)
Serves 3-4 Prep: 30 min
Ingredients
| | |
| --- | --- |
| Water (soft) | 1 litre |
| Kombu for dashi | 20g |
| Bonito flakes | 40g |
Method
1
Snip the edges of the dried kombu - this makes it easier to release the flavours.
2
Put the water in a pan and soak the kombu. Turn the heat on low and bring up to 80C. The kombu will start to release its flavour once it reaches over 60C.
3
Around 80C is the perfect temperature. If it boils, it will release bitterness so try to avoid this. If you see small bubbles on the kombu, this is fine. Remove any scum as it forms.
4
Remove the kombu seaweed just before it boils.
5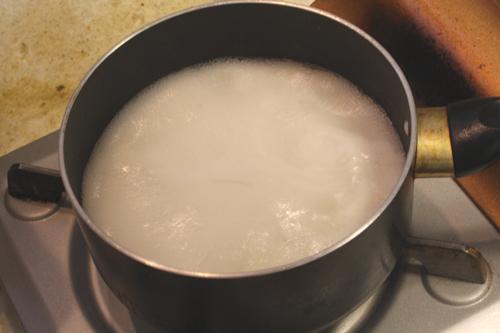 Turn the heat up to high and bring to the boil. Turn the heat off and keep aside for 1-2 minutes to reduce the temperature to 90C.
6
Add the bonito flakes and spread out gently. Heat on medium heat without stirring.
7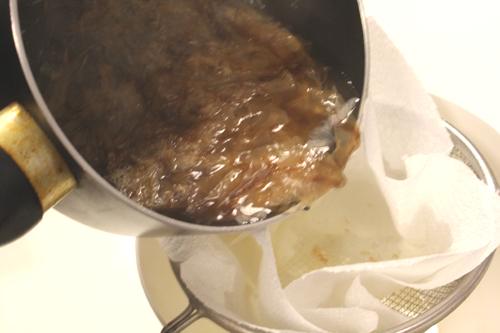 After 3 minutes, turn the heat off and drain the soup through lots of kitchen paper into a colander and into a large bowl.
8
Keep the soup that naturally drips through. Don't feel tempted to press down the bonito flakes! This is the ichiban dashi stock.
9
Always use soft water such as Volvic or Ashbeck when making ichiban dashi stock.
Tips & Note
See this recipe for how to make niban dashi.
Tips & Note
See this recipe for how to make niban dashi.