Salmon with Sweet Simmered Daikon
Usually this recipe goes with yellowtail, not salmon, but I rarely find yellowtail in British fish mongers. It worked pretty well with salmon.
Recipe By: Tobuchan (https://cookbuzz.com/kitchen/25)
Serves 2-3 Prep: 10 min Cook: 60 min
Ingredients
| | |
| --- | --- |
| Salmon fillets | 2 |
| Daikon (mooli) | 15cm |
| Kombu seaweed | 5×5cm |
| Water | 800ml |
| Sake | 3 tbsp |
| Sugar | 3 tbsp |
| Soy sauce | 4 tbsp |
| Ginger | 1 thumb |
Method
1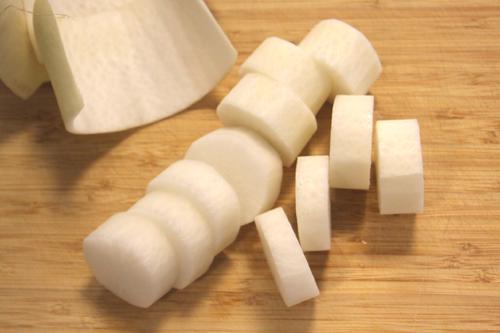 Peel the daikon thickly and cut into 1.5cm slices.
2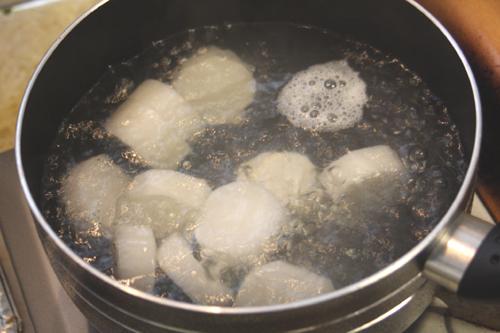 Put the daikon into boiling water in a pan and simmer for 20 minutes on medium heat.
3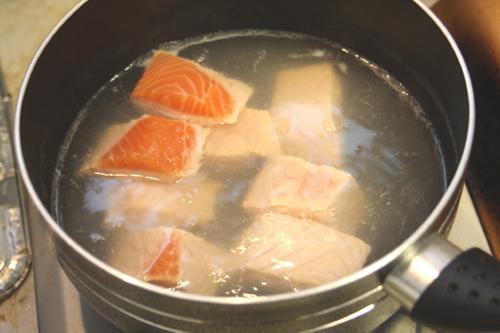 In the meantime, cut the salmon into bitesize pieces diagonally, drop gently into some hot water for 1 minute then transfer to iced water and pat dry.
4
Once the daikon has cooked, remove onto some kitchen paper, drain and allow to cool.
5
Once the daikon is hand hot, put into a pan and add the water and kombu. Turn on the heat and add the sake and sugar and bring to the boil. Turn the heat down to medium and simmer for 20 minutes.
6
Add the salmon and soy sauce and simmer for an additional 15 minutes. Add the slices of ginger and simmer for 5 minutes.
7
Turn the heat down and allow to cool. You'll really get a good flavour as it cools, so heat gently when ready to serve.
Tips & Note
● When the hot water boils at Step 5, remove the kombu otherwise it will give a bitter taste
● If you add the soy sauce first, it will be harder for the sweetness to develop, so add the sugar first in Step 5 and the soy sauce 20 minutes later
Tips & Note
● When the hot water boils at Step 5, remove the kombu otherwise it will give a bitter taste
● If you add the soy sauce first, it will be harder for the sweetness to develop, so add the sugar first in Step 5 and the soy sauce 20 minutes later